Through the years we have offered to take in an intern or two, who are looking for a career in the technical side of the Music Industry. The basics of applied physics to instrument and/or amplifier function is where it all begins. Where things end up depends on the individual intern's desire and learning ability.
Book study starts with a high school level review of math, physics, basic AC and DC electronic circuits, with an entry level of electronics vacuum tube theory.
Everything studied from books is applied to actual hands-on bench work in the shop. When the knowledge and skill levels are developed enough, the intern is paid for the completed bench work.
For information on this opening, contact Rich Koerner by e-mail or call 908-353-0933.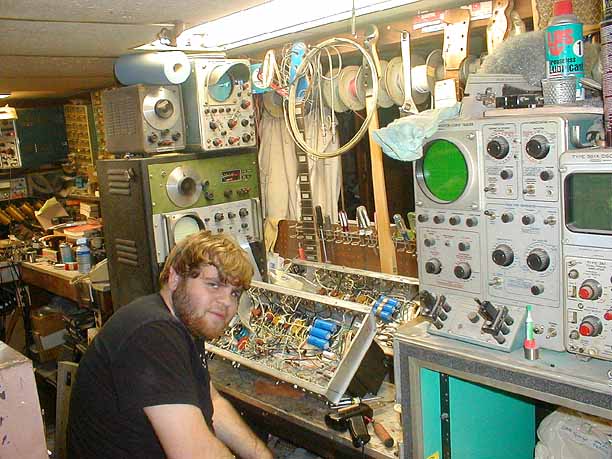 From the time of his high school graduation, Evan Benard interned with us through the summer of 2006. Evan picked up his soldering skills very fast, and was put on the workbench in a matter of one week. Starting on low heat soldering tasks in guitars and basses, he worked his way up to the higher heat soldering used in vacuum tube amplifiers.
Here, Evan is working on a Fender 400-PS while practicing his soldering skills. Proper wiring practice and layout used in vacuum tube amplifiers is taught along the way.
Our time together was limited to the summer as college was coming around the corner. Evan will be stopping in on weekends and on college breaks through 2007 to continue on with his musical technology education.



© Copyright R.K.Koerner 2007 All Rights Reserved.