Elliott Randall with His Super Reverb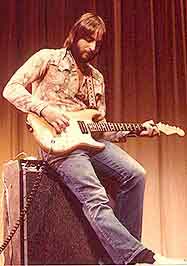 Click on Elliott's picture to visit his web site.
© Copyright Elliott Randall 1973, Used By Permission.

It was in the late '60s that Elliott and Rich first learned of each other. Some neat things were bound to happen when two very unconventional people get together. Elliott needed more from his amplifier to push the sonic envelop that his unique playing demanded.
By today's standards, what was done to this amplifier would be considered a very unconventional modification. For more information, and/or a CD of Elliott's magic with the guitar, stop by and visit Elliott's web site.


© Copyright R.K.Koerner 1997 All Rights Reserved.
Time Electronics