<! double neck double neck double neck double neck double neck double neck double neck double neck double neck double neck double neck double neck>

The Guitars Of Spin Doctors Eric Schenkman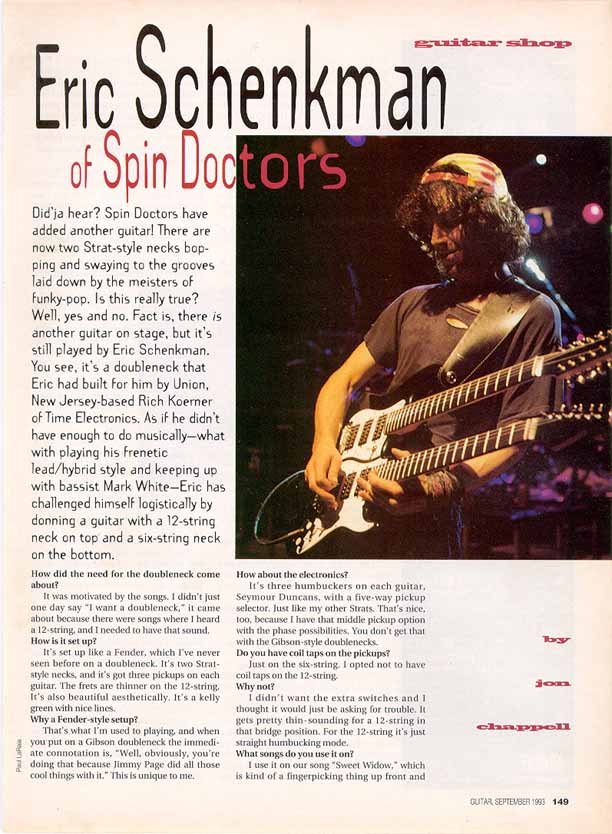 Guitar Magazine Copyright © June 1994, Used By Permission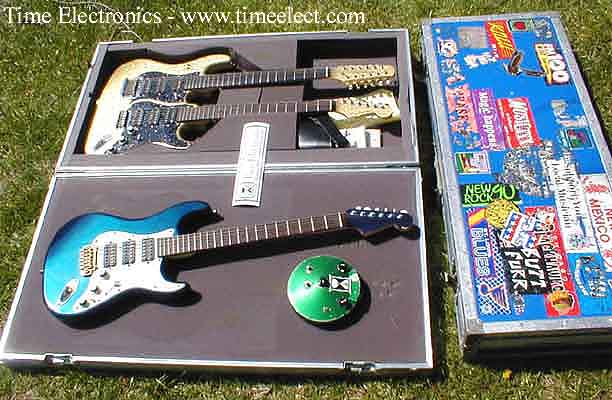 One of the best finishes I ever came up with was for Eric Schenkman of the Spin Doctors. Here you see it on the blue custom guitar in the road case. That thing changes all different shades of blue. From very light blue, all the way to almost black.

Check out the different shades of Blue in the body created by the bright sun light. Then, for comparison, look at the headstock.

The double neck was re-painted a fine Gold Metal Flake, and has pickguards that change colors thoughout the color spectrum. You will see that later at the bottom of this page.

The effects pedal is the "Green Zenn" that we created for Eric.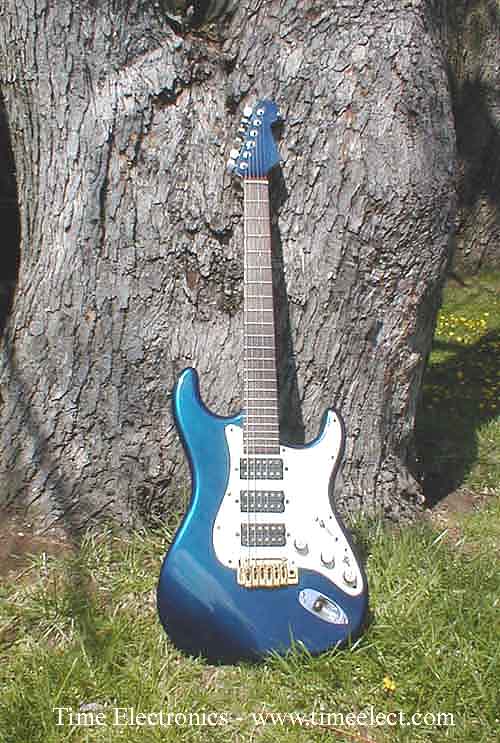 Now, compare the color you see in the body now. Check out the color of the headstock. It changed too from what was seen in the other picture. Now, they match in color.


Pictured above is Eric Schenkman, the original founding guitarist of the Spin Doctors as he uses the first of many custom guitars Rich built for him. The fingerboard has no inlays and is a very dark selected rosewood.

The three humbucking pickups were custom wound for the Touch Sensitive modified Marshalls and custom built Hourglass Amplifiers in order to produce his very unique
sounds. The guitar's finish changes from almost black through different shades of blues in the different stage & TV lighting. The tremolo system is by Trever Wilkinson. All his
guitars have no locking or graphite nuts.

Album credits were given for the work we have achieved for Eric Schenkman in the
development of his guitars and amplifiers (including a Custom-Built Double-Neck).

They can be heard on the following Spin Doctors albums: Up For Grabs, Homebelly
Groove, Pocketful of Kryptonite, and Turn It Upside Down. You can see Our Custom
Work on Video Footage from The Howard Stern Show, Late Show with David Letterman,
Saturday Night Live, Woodstock 94, Little Miss Can't Be Wrong, and other Videos.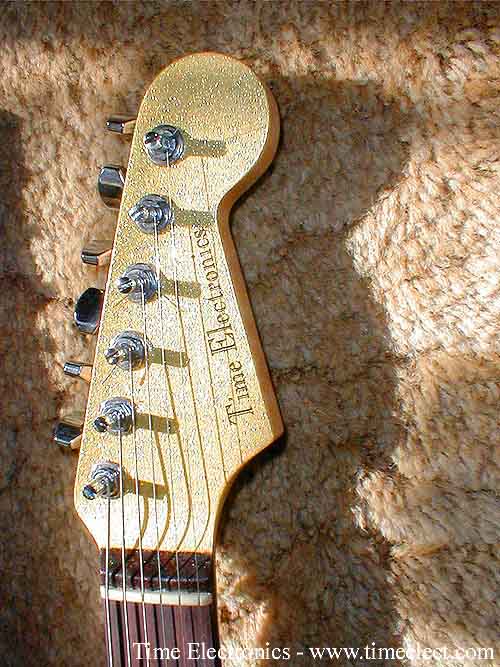 Here is the morning sun light on the guitar headstock of the doubleneck.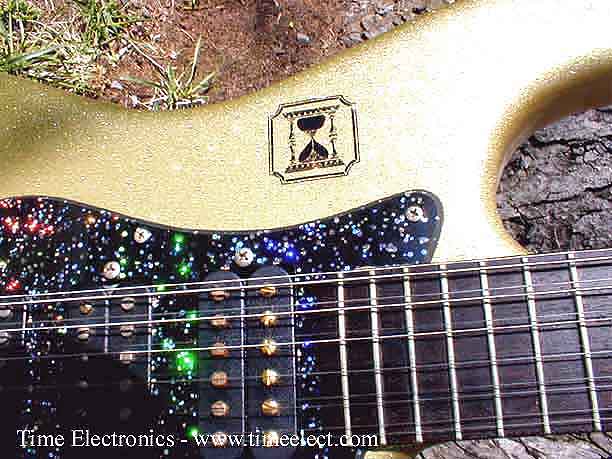 I've taken the doublneck outside for a picture or two. Here you can see the pickguard gives off a lot of sparkle. The reflection of the Gold Metal Flake seems to have over powered the camera. Picture taking is not my thing.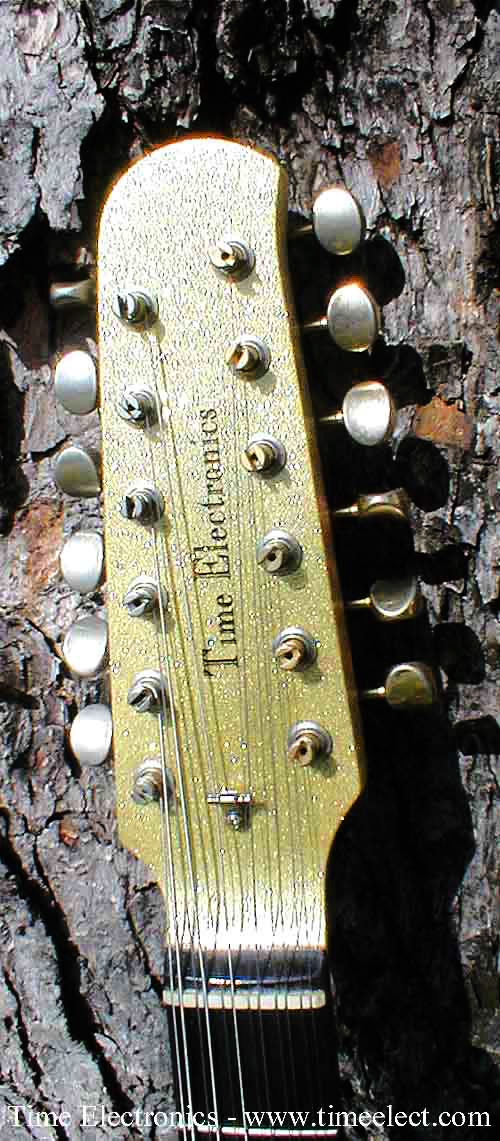 Just a shot of the headstock of the 12 string neck.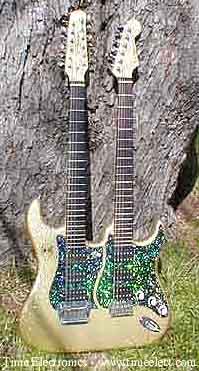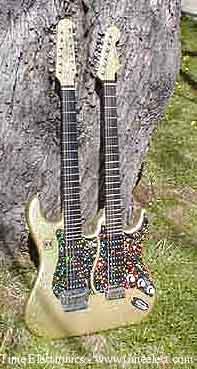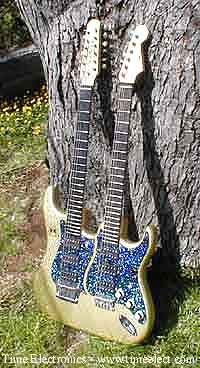 Guitar Magazine Copyright © June 1994, Used By Permission.

© Copyright R.K.Koerner 1997 All Rights Reserved.