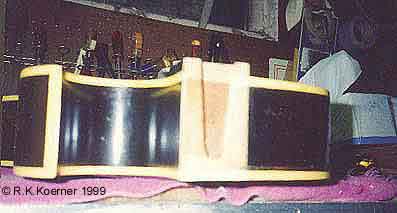 The Neck of this ES-175 had to be removed for the repair of the neck joint, cracked bout, binding, and to glue the internal separation of the neck joint block from the top and back of the body




After the repairs had been made, the finish of the top of the guitar was removed. Then the top was lightly sanded and sealed for refinishing. The dark spot above the right F hole is from the repair of a hole that went through the top of the guitar.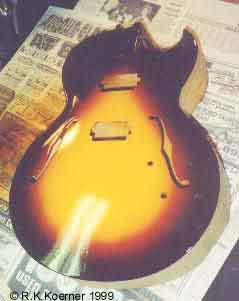 The shading of the sunburst had to be moved into the center of the guitar a little more than the original finish to hide a repair to the hole that was created buy an accident in its past.
I had totally forgotten to take the final picture when this ES-175 was completed. I have to locate the customer to bring it by for that missing picture.

©Copyright R.K.Koerner 1997 All Rights Reserved.